Miltenyi Biotec GmbH, Germany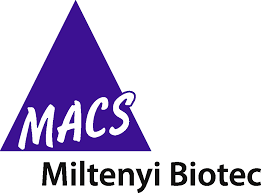 Miltenyi Biotec is one of Germany's most successful biotechnology companies. Since its foundation in 1989 it has grown to more than 2300 employees worldwide. Our multidisciplinary R&D department consists of 600 scientists, technicians and engineers and is constantly developing novel reagents and instruments for use in immunology, neurobiology, cancer, cardiac and stem cell research. For technical support and overnight delivery of its products, Miltenyi has more than 25 sales offices and a large network of distributors in leading industrial countries all over the world.
Magnetic Cell Sorting Technology (MACS® Technology), originally developed by Stefan Miltenyi to become its first product has evolved to an established standard method in biomedical research and in novel clinical approaches such as cellular immunotherapy or regenerative medicine. With MACS Technology, virtually any cell type can be isolated from human and animal cells up to plant cells and bacteria. Consequently, Miltenyi Biotec develops, produces and markets more than 15000 state-of-the-art products and services focussing on cell preparation, separation, culture,  analysis as well as clinical applications in the field of cell therapy.
Miltenyi has a great aptitude to drive scientific concepts to clinical products that are well-accepted by the community of researchers and clinicians adapting them to regulatory requirements; well demonstrated by the recent FDA approval for a clinical application using the company's CliniMACS CD34 Reagent.
Role in the project:
Development of standardized protocols for the generation of heart microtissue
Development of a microfluidic-based heart-on-chip model allowing for non-invasive evaluation of cellular function
Evaluation of methods for transplanting cardiomyocytes to the heart-on-chip model and non-invasive monitoring of transplant integrity and function